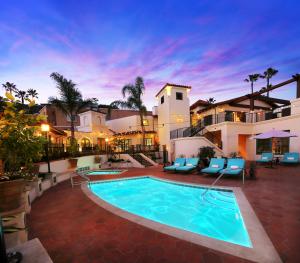 Easter Weekend on Catalina Island has historically been one for the books. Up till the 60s, an annual Avalon Easter pageant began at sunrise on Easter Sunday, with locals acting out the resurrection of Christ on Buena Vista Point. Each of the actors was clad in full costumes and robes, and the stage was said to have been surrounded by hundreds of pure white Easter lilies, all locally grown.
Even today, Easter on Catalina Island still retains a touch of the miraculous. Though it's just a short ferry ride away from mainland California, you'll feel far from the madding crowd on this gem of an island in the Pacific Ocean.
What Catalina Island offers more than anything, is a heady sense of possibility. Want adventure around every corner? Miles and miles of exquisite trails stretch across the island, inviting you to explore the rugged terrain at your own pace. You can also pack your days with the out of the ordinary experiences we offer, like a safari to see the herds of wild bison that live in Catalina's hills. Or if you're after nothing more than well-deserved relaxation, Catalina Island is ringed by sandy white beaches you can lounge on. Alternatively, a tranquil spa day can also be arranged.
All weekend long, you can also take part in Easter activities, or partake in special Easter meals prepared by our local restaurants. On Easter Sunday, wake up to catch the first golden rays shimmer onto the vast blue Pacific and attend a Sunrise Service.
Later in the morning, bring your whole family and join us for an Easter Egg Hunt extravaganza on the lawn at Descanso Beach Club, with thousands of eggs scattered all over for a hunt to remember. Maybe your child will be the lucky finder of the prized golden egg! Also expect an appearance from the Easter Bunny, and craft stations where they can express their creativity through egg painting.
Get ready to discover a new Easter tradition on Catalina Island and book your adventure with us today.