We have finally made it. Our favorite restaurants and hotels are opening up, summer is in full swing, and we can finally start venturing out into the world again. Approximately three months into quarantine, we are pretty much quarantine experts. We've managed to stay connected with others, while remaining socially distant. Social media played a major role in our connectivity with content largely inspired by viral hashtags and challenges. Let's take a look back at all that we have accomplished during our time in quarantine.
We began the journey by watching binge-watching a reality show about finding love from behind a wall, and a documentary that closely follows the ever-evolving story about a tiger park in Oklahoma. Then, we eventually moved on, challenging all our friends to complete as many push-ups as possible, while simultaneously judging their form. Once we got our fitness on, we started to add a dash of color to our wardrobe, as comfortable clothes should never be boring. So, we all went and mail-ordered some tie dye gear, and, we did not forget to post about it on social media!
As the quarantine days seemed to continuously pass by, the world shifted its attention to "self-improvement" projects – ordinary people suddenly turned in to Chip and Joanna Gaines, fixing up their houses, while others took to the kitchen, trying their hand at baking banana bread and dalgona coffee. Even though the nation managed to keep themselves busy during the quarantine period, in the back of their minds, they dreamed of relaxing on a warm, tropical island with a drink in hand.
We at the Catalina Island Company have been tirelessly preparing for the arrival of our guests, and, upon the creation of the Catalina Unquarantini, we are finally ready. With a precise combination of Tito's Vodka, Aperol, and a few citrus garnishes, the Catalina Unquarantini perfectly complements the ambiance of Descanso Beach Club, Catalina Island's only beachside restaurant and bar.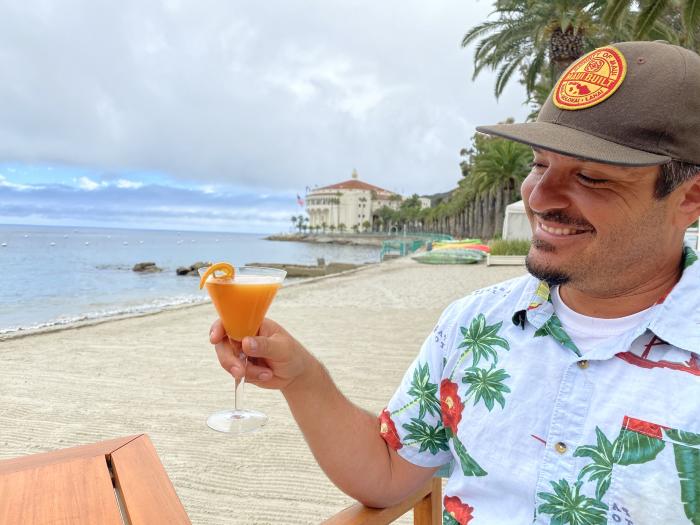 With restrictions lifting, we are ready to welcome you to Catalina Island – California's Island Escape. We have all of the food and drinks you have been craving (hello, Tricia's Nachos and Catalina Unquarantini), adventures for the whole family (cue the Biofuel Hummer Tour, and the Sealife Safari), and beautiful, historic hotels that can accommodate groups of any size.
Before you pay us a visit, practice getting your island vibes on by transforming your home into an island oasis for a night with your own Catalina Unquarantini. We've provided the recipe below – follow along, and please tag us in your creations. Happy Unquarantin-ing!
Catalina Unquarantini
2 oz Tito's Vodka 
1 oz freshly squeezed orange juice 
3/4 oz tangerine syrup
1/2 oz Aperol
1/2 oz freshly squeezed lime juice