Catalina Island's Bird Park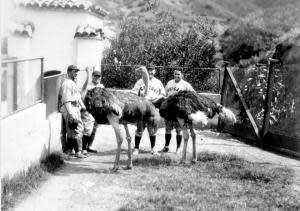 Catalina Island's Bird Park opened in 1929 and was a popular attraction in Avalon for over 35 years. Admission to the park was free. It was considered the world's largest bird park at the time, covering almost seven and a half acres in Avalon Canyon, across from the Catalina Island Golf Course. The aviary was home to almost 8,000 birds, hundreds of species, many exotic and rare, from all over the world. One of the main structures in Bird Park, which looked similar to a giant birdcage, was originally at the site of the Catalina Island Casino. The structure had been used as a dance pavilion when the area was known as Sugarloaf Point. The idea of establishing a bird sanctuary was a vision of Ada and William Wrigley, Jr. both avid bird lovers. Visitation to the park weened after World War II when access to the Island was limited by the military occupation, and in 1966 the park closed. The birds that remained found a home at the newly formed Los Angeles Zoo.
Present day visitors to Catalina Island can visit the site of Bird Park. The entrance gate and flight cage still exist today, and are used by the Avalon Cooperative Preschool.
Bird Park's Hollywood Connection
According to various sources, the sound direction team for The Wizard of Oz spent a week in Avalon in 1939 recording the sounds of many of the 8,000 birds in Bird Park. The sound crew recorded more than 15,000 feet of birdcalls, chirps and singing. The recordings were considered to be most complete collection of bird noises at that time. The recorded birdcalls were played at different speeds and in different ways, and then incorporated into many of the film's scenes, including the spooky sounds of the witch's Haunted Forest. 
View home movie video of Bird Park, circa 1941:
Catalina Island
History
Bird Park