Book Your Trip
OPEN
CLOSE
Backpacking the Trans-Catalina Trail
INSIGHTS AND INFORMATION FOR A FUN AND SUCCESSFUL ADVENTURE
A number of primary and secondary roads and single-track trails come together to form the 38.5-mile Trans-Catalina Trail, and there are five unique campgrounds along the way as the trail meanders through scenic, hilly terrain between Avalon on the east end of Catalina and Two Harbors on the west.
From the 1,200-foot climb out of Avalon Canyon on Hermit Gulch Trail to the 1,500-foot, 2-mile trek up Silver Peak, the Trans-Catalina Trail challenges you with nearly 10,000 feet of total elevation gain, so whether you're planning a 3, 4 or even 5-day Trans-Catalina Trail adventure, you should be in decent shape to truly enjoy the experience.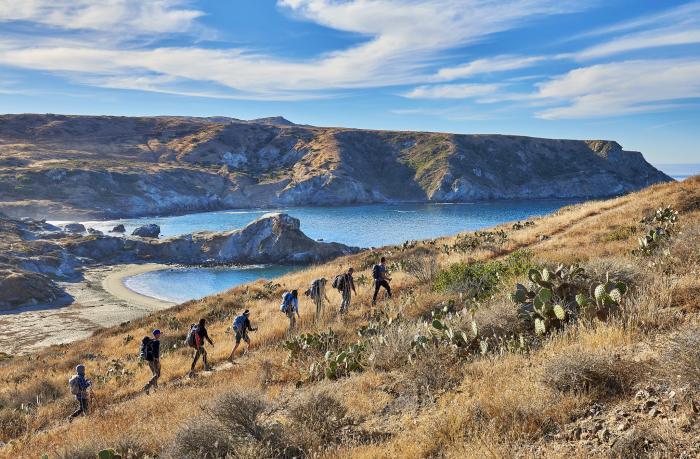 Consider planning your hike for the fall, winter or early spring, when cooler temps and sea breezes help make up for the lack of shade along the trail. Sturdy hiking boots and trekking poles are recommended to help navigate the difficult climbs and challenging descents you'll encounter.
No matter when you go or how long you take to complete the Trans-Catalina Trail, the soul-stirring serenity and awe-inspiring scenery you'll experience will leave you with a lifetime of memories. Click the drop-down menus below to learn more about hiking the Trans-Catalina Trail.
REI is offering several Guided Trans Catalina Trail Expeditions in 2022. Find out more about the REI Trans Catalina Trail Expedition.