Book Your Trip
OPEN
CLOSE
Mooring Info & Rules
Important Information about Mooring in Two Harbors
The moorings around Catalina Island are leased to private parties but are rented when available. Mooring charges are based on the size of the mooring and the length of your stay. Moorings are available on a first-come, first-serve basis. Check-out time is 9:00 AM. If you wish to extend your stay, please contact Harbor Patrol on VHF Channel 9 to check availability.
Using a Mooring
Attaching a Mooring
Use pole to attach Bow Hawser to Bow Cleat. Hawser is approximately 6 feet below the surface.
Run Spreader Line to boat stern. Spreader Line is attached to Bow Hawser.
Remove slack from Spreader Line and attach Stern Hawser to Stern Cleat. Be careful not to over-tighten mooring lines. You can tie off on the spreader line; you do not need to attach the stern hawser, as the mooring may be rigged for a larger vessel. You are responsible for any damages done to the mooring during your stay.
Re-check Bow and Stern Cleats to make sure you are moored securely.
Keep the slack Spreader Line on the boat in order to keep the line clean.
Note: Due to changes in tidal, mooring lines may need to be adjusted periodically to add or remove slack.
Leaving a Mooring
First, untie the stern line, then the bow line. Wind conditions may require this to be done in the reverse order.
Drop them and the spreader line into the water.
To prevent fouling, allow time for lines to sink free and clear of your propeller.
Double-check that your propeller is clear of lines before proceeding.
If you believe you have fouled your propeller, please call the Harbor Patrol on VHF Channel 9 for assistance.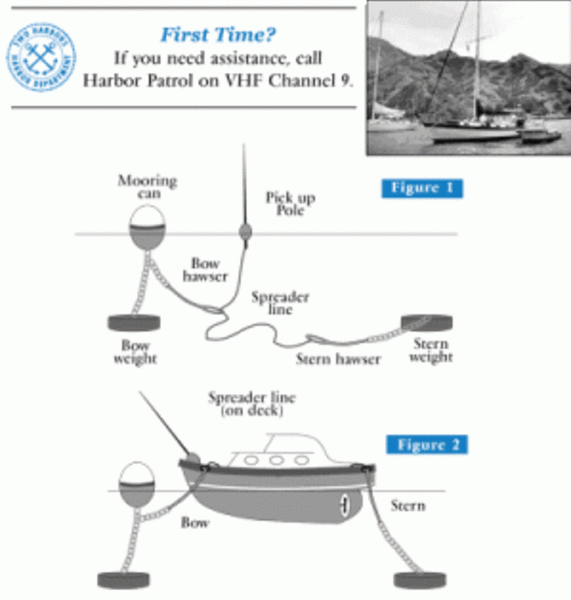 Harbor Rules
Speed Limit
Please observe the five-mile per hour, no-wake speed limit near mooring areas and anchorages.
Noise
Please observe quiet hours in all harbors between 10:00 PM and 7:00 AM.
Generators
Quiet hours apply for all generator usage. For safety reasons, do not leave generators running when going ashore. Commercial-grade generators are not allowed. Decibel levels must be below 60dB, (normal voice level). If you encounter generator abuse, please contact the Harbor Dept. on VHF channel 9.
Bright Lights
Please dim bright deck and underwater lights during quiet hours.
Anchoring
Anchoring is at your own risk. Courtesy to other boaters is of utmost importance. Anchoring is permitted 100 yards outside the mooring area and is administered by the Two Harbors Harbor Department. If you have questions about anchoring, please contact the Harbor Patrol via VHF Channel 9.
Dogs
Dogs must be leashed at all times. Always clean up after your pet. Free refuse bags are available at the base of the pier. Do not tie dogs to patio, walkways or other places, or leave them unattended. The Catalina fox population is still recovering from an outbreak of canine distemper virus. Prior to coming ashore, please make sure your pets have all their current shots, including the distemper vaccination.