Book Your Trip
OPEN
CLOSE
Two Harbors Boating
Explore the west end of Catalina Island
Catalina Island's location just off the coast of Southern California makes it a boater's paradise. And Two Harbors on the west end of the island is one of the most popular destinations for many SoCal boaters. Isthmus Cove near the village of Two Harbors and the secluded coves nearby each have mooring and anchorage options to help you make the most of your Catalina Island boating adventure.
Explore miles of hiking and biking trails, or swim through a giant kelp forest and spot up to 50 species of fish and invertebrates in visibility that often exceeds 60 feet. Whether you spend your time on the water or come ashore and explore, you're sure to have an incredible experience in Two Harbors.
Boat Moorings in Two Harbors, Catalina Island
The Two Harbors system offers over 700 moorings and anchorages in more than a dozen different sites, including Isthmus, Fourth of July, and Cherry Coves, Emerald Bay, Howland's Landing, Little Geiger, White's Landing, Moonstone, Hen Rock, Buttonshell, Catalina Harbor and Wells Beach. Find the perfect site for your west end adventure. Mooring reservations are available starting at 8:00 pm each Thursday evening for the upcoming weekend.
To pick up a morning, call VHF Channel 9 upon arrival. Learn more about Two Harbors area moorings and rules. 
Mooring Sites, Locations and Maps
Explore Mooring Sites and Maps as well as Course Settings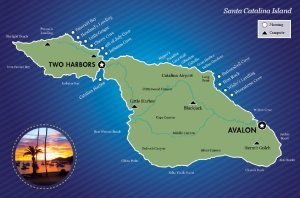 For Your Convenience
Mechanics at the Two Harbors Outboard Shop are available year-round to work on all major brands of engines and boats. To contact the Outboard Shop, call 310.510.4212 or hail on VHF 18A. To contact Harbor Patrol, call on VHF 9 or 310.510.4254.
We look forward to seeing you on beautiful Catalina Island.!
Two Harbors Boating and Mooring Information