Book Your Trip
OPEN
CLOSE
Catalina Island Gift Cards
Give the Gift of a Catalina Island Vacation

Catalina Island Company gift cards never expire, so travel can take place when the time is right.
Whether you give them as gifts or keep them for yourself, Catalina Island Company gift cards are a great way to enjoy a complete resort experience on California's Island Escape™. Your gift card is accepted at all Catalina Island Company venues and experiences, including Pavilion Hotel, Hotel Atwater, Mt Ada, Banning House Lodge, Avalon Grille, Harbor Reef Restaurant, Descanso Beach Club, Island Spa Catalina, the top-rated Zip Line Eco Tour, Bison Expedition and more than two dozen land and sea activities & adventures that showcase the beauty, history and charm of Catalina Island.
A gift card for Catalina is the perfect first step to planning your island escape.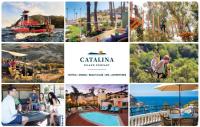 To purchase a Catalina Island gift card, call 877.778.8322
between 8 AM - 6 PM PST daily.
Virtual gift cards are activated and distributed upon purchase. Please allow up to 24 hours for any unforeseen circumstances.