Book Your Trip
OPEN
CLOSE
Boat & Hotel Package
Ditch the Mainland, Catch the Ferry and Come to Catalina
Catalina Island offers something for everyone, from cocktails on the sand at Descanso Beach Club to an exhilarating flight on the Zip Line Eco Tour to the chance to spot a famed bison on the Bison Expedition, and much more. With a Catalina Island Boat & Hotel package, all you have to do is choose your accommodations and boat departure aboard the Catalina Express, hop on the ferry and create your own Catalina Island experience. Catalina Express boats depart from San Pedro, Long Beach and Dana Point. 
WHERE TO STAY ON CATALINA ISLAND
 
HOTEL ATWATER
Avalon's newest guest experience, Hotel Atwater stays true to the Wrigley family legacy with vases filled with fragrant carnations and sparkling wine, tributes to Helen Atwater Wrigley's love of flowers and glass of bubbly she enjoyed every evening before bed.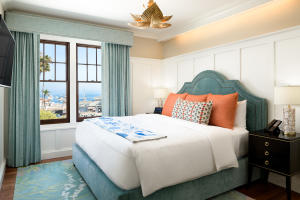 Mt Ada
Experience the finest in style, sophistication, and service at Mt Ada overlooking Avalon Bay. The former home of William & Ada Wrigley, Mt Ada is Catalina's only Forbes Travel Guide 4-star property, offering six en suite guest rooms beautifully appointed to reflect a bygone era.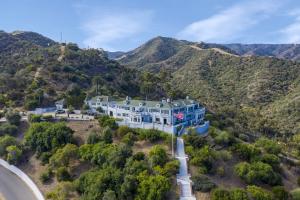 PAVILION HOTEL
Pavilion Hotel's relaxed atmosphere, personalized service, and resort-style amenities combine to create an exceptional guest experience. The central courtyard, with swaying palms, tropical flowers and cozy fire ring, is a great spot to gather while you share memories of the day.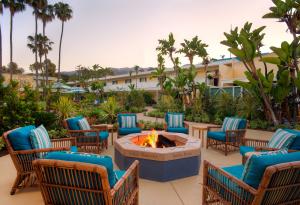 Banning House Lodge
Surrounded by palm trees on a secluded hill overlooking the village of Two Harbors, historic Banning House Lodge has been artfully restored and transformed into a charming Craftsman-style bed and breakfast on Catalina's west end, where guests go to unplug and recharge.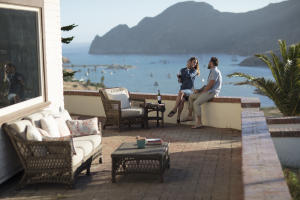 The Banning House will be closed January 2 - February 29, 2024.
Hotel Inclusions
Guests at Hotel Atwater enjoy
The following resort-style amenities for a requisite destination fee of $40 per room, per night, plus tax.
Guests at Pavilion Hotel enjoy:
The following resort-style amenities for a requisite destination fee of $40 per room, per night, plus tax.
Guests at Mt Ada enjoy
4-star accommodations with sweeping views of Avalon Bay
Daily hot breakfast, lunch, and an evening wine and cheese plate
24/7 Butler's Pantry (via concierge) stocked with beer, wine and assorted snacks
Use of a golf cart to explore the island during your stay
15% discount on Catalina Island Company activities & tours**
15% off treatments and day passes at Island Spa Catalina
Private pickup from the airport, heliport, boat terminal or other lodging
High-speed Wi-Fi, daily housekeeping and turn-down service
Guests at Banning House Lodge enjoy
Continental breakfast
Evening wine and cheese social
Shuttle service to and from Two Harbors village
15% discount on Catalina Island Company activities & tours** (seasonal)
*Food & beverage credits become active once you are checked into your room. Starting on your first night's stay, the $20 credit will expire at midnight. There will not be a food and beverage credit available on your day of departure. Unused credits that expire cannot be redeemed for cash.
**Curated amenities are subject to change without notice. Activities and tours are subject to availability. Discount is not valid for Zip Line Eco Tour, Catalina Mini Golf Gardens, Rock Climbing Wall or Discover Two Harbors tour.
Info
For bookings within 24 hours of arrival, please call 877.778.8322 to reserve & confirm boat departure time. Based on availability at time of booking. Not valid with any other offers, promotions, or existing reservations. Boat transportation is based on Catalina Express or Catalina Flyer ports and availability. Other restrictions may apply. For group rates, please contact groupsales@scico.com.