Book Your Trip
OPEN
CLOSE
Hermit Gulch Campground
Hermit Gulch Campground is Avalon's only camping facility located within city limits. The campground is situated in Avalon Canyon near the Nature Center and the Wrigley Memorial and Botanical Garden.
The campground offers a nice view of the surrounding hills that are home to a wide variety of endemic plant and animal species. Hermit Gulch Trail is accessible from the campground, and there's access to other hiking trails nearby.
Hermit Gulch is great for first-timers and experienced campers alike. Being so close to town allows easy access to groceries, shopping, restaurants, tours, sight seeing and nightlife. 
Be sure to check out our limited time offers just for campers!
***During winter months, Hermit Gulch will be closed Tuesday, Wednesday and Thursday.
Hiking the Trans-Catalina Trail?
Fees & Reservations
Directions to Campground
Hermit Gulch Campground is located uphill on Avalon Canyon Road just 1.5 miles from the Avalon boat landing. The campground can be reached either by foot on the paved road or by Avalon Transportation Services (310) 510-0025, which provides both taxi and city trolley service accessible directly from the boat landing. Baggage service and lockers are available from Avalon Blue Line Baggage Service.
Camping Fees (per person per night)
| | | | |
| --- | --- | --- | --- |
|   | Adult | Child (3-11) | Tent Cabin |
| Summer Rates (March1 - October 31) | $30 per night | $21 per night | $75 per night |
| Winter Rates (November 1 - February 28)) | $28 per night | $19 per night | $65 per night |
| Holiday Rates (3 night minimum) | $30 per night | $21 per night | $85 per night |
*Weekends have a 2 night minimum (May 1 - October 31). Holidays have a 3 night minimum. Holidays include Memorial Day, Independence Day and Labor Day. If hiking the Trans-Catalina Trail, the two-night minimum requirement is waived on all tent sites.
Tent Cabins include cots, a lantern and propane stove with one full canister of propane provided upon check-in. (Please Note: Any additional propane must be purchased). For tent cabins, the per person per night camping fee is charged in addition to the tent cabin per night rate. Tent cabins have an additional 12% occupancy tax.
Number of Sites
6 tent cabins for up to six people
3 tent cabins for up to three people
40 tent sites
Please note: No Hammocks Allowed
Reservations 
Hermit Gulch camping reservations are required. An additional fee will be charged for campers without a reservation. To make a reservation online click on Book Now or to make reservations by phone please call 310.510.4205. By making a reservation online or over the phone you are reserving either a campsite or a tent cabin. The actual location and number of the campsite or tent cabin is determined upon check-in.
For group reservations of 20 or more, call 310.510.2000 ext. 4242, or email camping@scico.com. 
***During winter months, Hermit Gulch will be closed Tuesday, Wednesday and Thursday.
Check-in/Check-out
Check in begins at 2:00 pm ** All campers must check in at the campground by 5:00 pm
Check-out at 11:00 am. 
Lockers and baggage storage are available at the Avalon boat landing. 
An on-site ranger is available Thursday - Sunday between 8:00 am - 5:00 pm
Picnic Tables & BBQ Stands at each campsite and tent cabin.
Lighted restrooms with flush toilets
Outdoor kitchen style sinks
Potable Water
****We encourage campers to purchase bottled water from the store prior to arriving at the campground.
Coin operated showers: Quarters only.
Quarter Operated Lockers: Height: 17"H x 12"W x 17"D (Quarters only)
Soda/Beverage Vending Machine
Camp Store
Hermit Gulch operates a small camp store. Offering sundries, water, propane (3.5 oz & 8 oz.), ice cream, sodas, chips, sunblock, batteries, lanterns, first aid kits, camping gear, Hermit Gulch t-shirts, sweatshirts, hats and stuffies (bison & garabaldi). Closed on Wednesdays. Open until 5 pm.
Campground Rules
Please click for a complete list of Hermit Gulch Campground Rules.
If you have any questions pertaining to your site or reservation, please call the Two Harbors Visitor Service Center at 310.510.4205. Check-in is at 2 pm and check-out is at 11 am.
We have tent cabins available which consist of a wooden platform with a canvas tent on top. Each cabin has either three or six army cots inside and comes with a 2 burner propane stove and a lantern. Our tent sites and tent cabins have a picnic table and charcoal BBQ on site. If renting a tent site, please bring a tent and sleeping bag. Charcoal, Duraflame logs, and propane are available at the Hermit Gulch Campground Ranger Station and Chet's Hardware Store.
***Due to fragile tree systems, absolutely NO HAMMOCKS ALLOWED at Hermit Gulch.
Group Cancellation Policy: All group reservations canceled 30 days in advance will receive a full refund.
WARNING: If Catalina Island is experiencing adverse weather there is a possibility of trail, road, and campground closures. High winds could result in possible express boat cancellations. Please watch the weather. You can call the Two Harbors Visitor Service Center for updates on closures, 310.510.4205.
Reservations: Hermit Gulch camping reservations are required. For reservations, and for groups of 20 or more, please call: 310.510.2000 ext. 4242.
*Please Note: Avalon City Fire Code prohibits wood fires. Wax logs (Duraflame) and charcoal only. No hammocks are permitted.
Cancellation Policy: Full refund for reservations canceled 72 hours in advance of arrival date.
Please Note: Personal camping equipment is highly recommended.
Pet Policy: Sorry, no pets.
Minimum Stay: 2 night minimum stay is required for weekends, and 3 night minimum for holidays.
Campers should bring face coverings and hand sanitizer.
Campground Map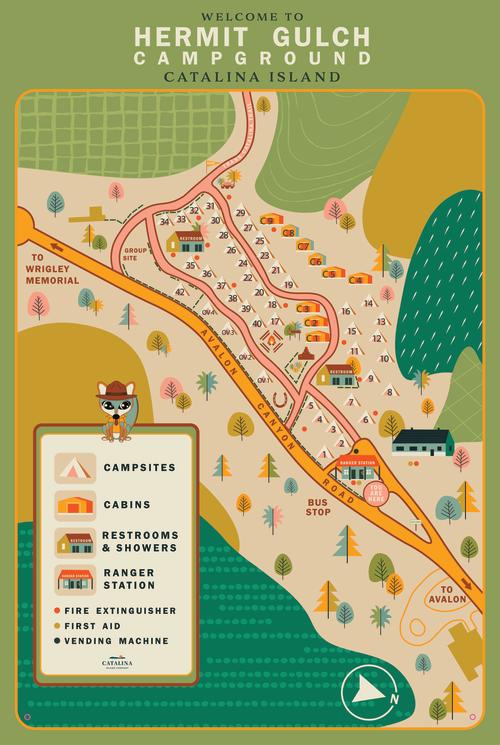 Reviews
Reviews of Hermit Gulch Campground