Book Your Trip
OPEN
CLOSE
Hotels
Activities
Moorings
Camping
Catalina Island Camping
Find your slice of island paradise
Go beyond the daily grind and the day-to-day to immerse yourself in the island's natural beauty on a camping getaway. New experiences abound to inspire your story, creating a balance between exhilarating moments and peace and tranquility.
We offer campgrounds in Avalon and on the west end of the island in Two Harbors. There are also great opportunities to explore more remote parts of Catalina Island at Black Jack Campground, just below 2,097-foot Mt. Orizaba, Catalina Island's highest peak; Parson's Landing, a secluded beach campground seven miles west of Two Harbors; and Little Harbor on the backside of Catalina, rated "One of the Best Campgrounds in the West" by Sunset Magazine. Or for a truly unique experience, explore our Boat-in Camping sites.
If you'd like to get back nature, but don't care to bring your gear, we offer Tent Cabins in both Avalon and Two Harbors (in addition to regular tent sites). Whatever campground or site you choose, we hope you enjoy the island's never-ending beauty and warm hospitality.
If you're hiking the Trans-Catalina Trail, make your campsite reservations here. 
Hiking to Campgrounds
Two Harbors to Little Harbor: Approximately 5 miles
Two Harbors to Parsons Landing: Approximately 8 miles via the fairly flat coastal route or approximately 6.5 miles via the more strenuous mountain route.
Gear hauls are not offered to Parson's Landing – camping equipment and luggage must be backpacked and carried.
Potable water is available at every campground except for Parson Landing. Campers at Parsons Landing can purchase a locker, which contains 2 gallons of water, 1 firewood bundle, and 1 fire starter. Lockers are located at the campground. Combinations can be picked up at the Two Harbors Visitor Service Center before campers begin their hike.
**Road and Trail Disclaimer-  Please contact the Catalina Conservancy at 310.510.1445 for trail and road access after storms. Some roads and trails are closed during and after storms while the rangers remove debris from the trail.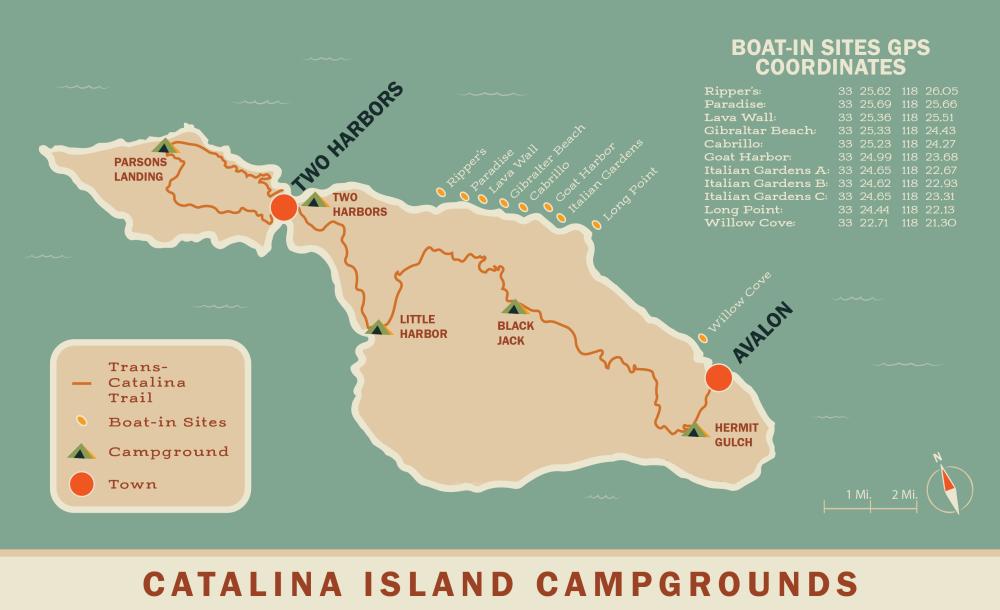 or Call Visitor Services at 310.510.4205
Hiking the Trans-Catalina Trail?