Book Your Trip
OPEN
CLOSE
Hotels
Activities
Moorings
Camping
YOUR JOURNEY
A COMMITMENT FROM CATALINA EXPRESS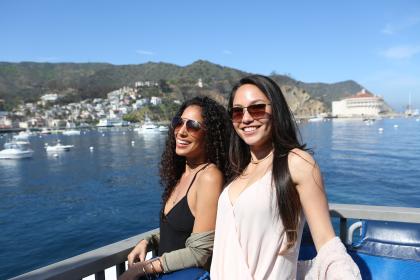 To ensure your well-being and comfort on your journey to Catalina, Catalina Express has implemented social distancing policies and more robust cleaning protocols.
SOCIAL DISTANCING
Plexiglass partitions increase physical distance between passengers and ticket counter agents
Passengers and employees are required to wear face coverings or masks in terminals, boarding and on board vessels
Social distancing is compulsory while in line at the terminal and while waiting to board
Reduced onboard capacity allows for optimal social distancing
Open-air seating lets passengers enjoy the sun and fresh ocean air
ENHANCED CLEANING
Hand sanitizers are stationed at check-in windows
High-touch surfaces (including doorknobs, handles, ticket counters, arm rests, seat trays, and handrails) are more frequently sanitized
Stronger chemical cleaners are now used in terminals and vessels
Electrostatic cleansing is used on the vessels to purify the air and eliminate hard surface contaminants
ELECTROSTATIC TECHNOLOGY
Catalina Express uses electrostatic technology to thoroughly sanitize air and surfaces. This technique distributes disinfectant throughout the air to kill airborne microorganisms and eliminate hard surface contaminants. The process is performed each night throughout the interior of the vessel.