Ahoy, me hearties! Are you ready to embark on a swashbucklin' adventure like no other? Prepare to set yer sails for the one and only Catalina Island for the legendary Buccaneer Days weekend, an event filled with pirate plunder, grog, and barrels of fun (and rum).
Every October, Two Harbors on Catalina Island transforms into a pirate's haven, where buccaneers from all corners of the Seven Seas gather for a weekend of merrymaking and mayhem.
Entertainment Fit for a Buccaneer
Friday, October 6 starting at 12 PM DJ, Humble Hooligans, and Kelly Boyz
Saturday, October 7 starting at 12 PM DJ, Kelly Boyz, Humble Hooligans, Flash Pants, and DJ Splyce. Participate in the Treasure Hunt and Costume Contest.
Dress the Part, Mateys Don yer finest pirate attire, from tricorn hats to eye patches, and let yer inner pirate shine through.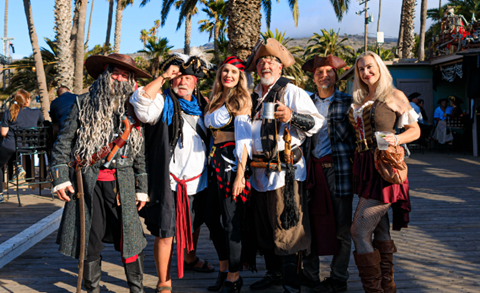 Grog and Grub All that pirate merriment be bound to make ye work up an appetite, and there be no shortage of delicious grub to keep ye goin'. And don't forget to wash it all down with some grog – that be pirate speak for a good ol' drink!.
Get your tickets, reserve your campsite and chart a course for Catalina Island's legendary multi-day pirate party in Two Harbors.
Prefer yer place on the water? Learn more about mooring reservations.
Guests staying in Avalon - The Cyclone runs daily from Avalon to Two Harbors. Book your round-trip Discover Two Harbors trip. Limited availability, book in advance to guarantee your spot.
Whether ye be a seasoned pirate or a landlubber lookin' for a taste of the high seas, this weekend getaway be bound to be a swashbucklin' success. So hoist yer anchor, raise yer flag, and set course for Two Harbors – a pirate's paradise awaits!
View the event schedule and FAQs on the Buccaneer Days website. For more information call (310) 510-4205.
Getting to Catalina Island
To set sail for this pirate paradise, ye can catch a ferry from the mainland or traverse the sea on your own boat