Book Your Trip
OPEN
CLOSE
Hotels
Activities
Moorings
Camping
Getting Around Catalina Island
Both Avalon and Two Harbors are easily accessible on foot. It's fun to meander around the city streets and take in the sights and sounds of these quaint villages.
Most Avalon residents get around by golf cart, which are available for rent on an hourly or daily basis. There is also an Avalon trolley operated by Catalina Transportation. The trolley circles around Avalon twice an hour. There are one-ride and all-day fares available.
Taxi service is available from the Catalina Island ferry terminal, as well as the taxi stand, located on the corner of Crescent Avenue and Metropole Avenue, to all areas of Avalon.
The Catalina Island Company offers free shuttle transportation to Descanso Beach in the summer months, including a stop at the Catalina Casino, on a regular daily basis. The bus departs from the Via Casino arch at the beginning of Casino Way.
Shore boats are available in both Avalon and Two Harbors.  
Catalina Safari Bus
The Safari bus links the City of Avalon with Two Harbors, including stops at Little Harbor, Airport-in-the-Sky and the trail head for Black Jack.  It takes 2 hours one way to get from Avalon to Two Harbors on the safari bus. The purchase of a safari bus ticket allows each passenger 2 bags, no larger than 37x23x23 and weighing no more than 50 lbs each plus a small lap item.  Oversized items will cost an additional fee of $25 per item, one-way. Surf Boards, Bikes, and Dogs are not allowed on the safari bus
Fares
Avalon to Airport/Black Jack: Adult $17.00 Child $14.00
Airport to Little Harbor: Adult $17.00 Child $14.00
Little Harbor to Two Harbors: Adult $25.00 Child $16.00
Avalon to Two Harbors: Adults $59.00 Child $44.00
*Prices subject to change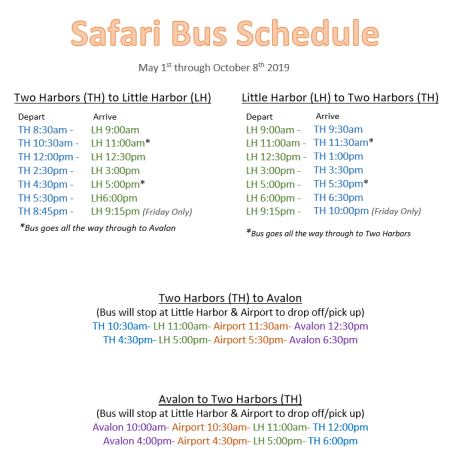 Catalina Transportation Services
Catalina Transportation Services offers a full line of transportation including taxi/shuttle service, Specialty vehicle rentals, room service, and deliveries: 310.510.0025
Avalon Transit - Garibaldi Bus
The Garibaldi Community fixed route bus serves central Avalon from the ferry landing to Casino Way and up-canyon to the Wrigley Memorial and Botanical Garden. $2 per ride, children under 5 are free.